Company Overview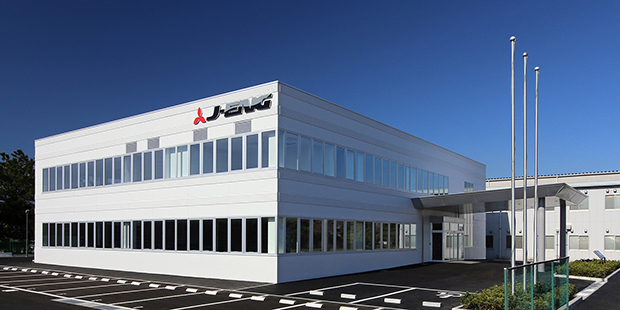 Company Name
Japan Engine Corporation
Location
Head Office & Factory
1 Minamifutami, Futami-cho, Akashi City, Hyogo 674-0093, Japan
TEL: +81-78-949-0800 (main line)
MAP



Representative
President and Representative Director Ken Kawashima
Founded
November 1st, 1910
Capital
2.215 billion yen (TSE Second Section Listing)
Major Products and Operations
Development, design, manufacturing, maintenance, repair, sale and licensing of engines and other components
Number of enployees
321(As of March 31st, 2020)
Offices
Tokyo Branch
4th Floor, Choyu Landic Building, 1-11 Shimbashi 3-chome, Minato-ku, Tokyo 105-0004, Japan
TEL: +81-3-3504-5031
MAP

Imabari Office
5th Floor, Maemi Building, 5-3 Kitahorai-cho 1-chome, Imabari City, Ehime 794-0028, Japan
TEL: +81-898-32-7588
MAP
Major Banks
Sumitomo Mitsui Banking Corporation
MUFG Bank, Ltd.
Mizuho Bank, Ltd.
The Minato Bank, Ltd.
The Eighteenth Bank, Ltd.
Major Shareholders
Mitsubishi Heavy Industries, Ltd.
Namura Shipbuilding Co.,Ltd.
CKB Corporation
Kanax Corporation
SHIN KURUSHIMA DOCKYARD CO.,LTD.
Mitsui O.S.K. Lines,Ltd.
Imabari Shipbuilding Co.,Ltd.
Executives
Ken Kawashima
President
Naofumi Kurogi
Representative Executive Managing Director of Administration
Osamu Iwanaga
Board Director Executive Officer, Senior Plant General Manager
Seiji Shindo
Board Director of Technology
Ikuo Takeuchi
Outside Director
Fumitoshi Kojima
Outside Director
Kenichi Tsujimoto
Outside Director
Katsundo Matsui
Standing Audit & Supervisory Board Member
Masaki Fujita
Outside Audit & Supervisory Board Member
Akira Arita
Outside Audit & Supervisory Board Member
Yoshinobu Yoshikawa
Executive Officer, Senior Production General Manager
Masahide Sugihara
Executive Officer, General Manager of General Affairs Department & Internal Audit Office
Tetsuya Yamamoto
Executive Officer, General Manager of Quality Assurance and Service Engineering Department
Akihiro Miyanagi
Executive Officer, Chief Engineer
LOGO Mark
The logo mark is designed with an abbreviated company name and inherited the long-beloved trade mark of propeller. This is a symbol of our commitment for our continuous sincerity and vitalized strives for building a firm trust.